Supply
Radioisotopes support our way of life. However, because they emit radiation and because each radioisotope's nucleus decays over time, their supply needs to be continuous and stable, in keeping with demand. The Japan Radioisotope Association (JRIA) imports, manufactures, and transports radioisotopes in a safe and secure manner, making use of the advanced expertise and technologies derived from its accumulated experience in handling radioisotopes, gained over the past 50 years. Furthermore, we share information with relevant organi-zations, manufacturers and users, both at home and abroad, in order to ensure a stable supply of radioisotopes.
The JRIA has acquired ISO 9001: 2015 quality management system certification for the Sale of Radiopharmaceuticals and Radioisotope Products as well as Manufacture of Radioactive Sources for Non-destructive Testing, Standard Sources and Standard Solutions.
In its role as a Japan Calibration Service System (JCSS)-accredited calibration laboratory, the JRIA provides the measurement standards for dosimetry and activity based on the Measurement Law. (The JCSS is a traceability system established within the framework of the Measurement Law.)
Standard sources, calibrated by means of the JRIA's long experience and expertise in the field of radiation measurement, are used to support radiation measurement and radio-nuclide metrology at facilities using radioisotopes throughout Japan.
Radiopharmaceuticals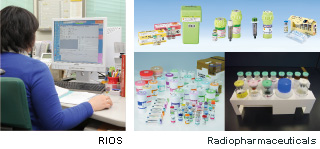 We ensure a stable supply of radiopharmaceuticals throughout Japan, in collaboration with the relevant academic societies and man-ufacturers.
We promote the use of radio-pharmaceuticals by the operation of the Internet ordering system called RIOS (Radiopharmaceuticals Infor-mation and Ordering System), and provide information on radiopharma-ceuticals.
Radionuclides/labeled compounds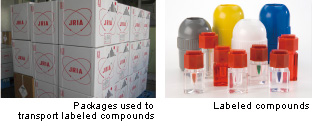 We supply radionuclides and labeled compounds procured from domestic or international suppliers and check their stability at our facilities.
We work with the Internet environment to help users conveniently place orders through the Internet ordering system.
Radioactive sources
We import radioactive sources from overseas for various applications such as radiation therapy, irradiation sterilization, non-destructive testing and the calibration of radiation detectors, or manufacture them ourselves and distribute them nationwide. These radioactive sources are only shipped after thorough quality inspections have been performed to ensure that they are safe to use.
The quality inspection process for sealed sources includes checking items such as appearance, radiation output, integrity, and serial numbers.